Nevada state oversight map
US-NV-cities-roads-map-628 is an Illustrator artwork. The main advantage of the vector graphic file is that it is possible to display the state's main roads and settlements in several ways.
Or just the state of Nevada itself as a separate graphic file,
Or as a section of a map with the surrounding areas.
Of course, all its elements can be enlarged and edited, recolored and additional graphic elements can be placed on the map as desired.
Nevada route network
US-NV-cities-roads-map-628 has 13 layers.
The Nevada route network is the network of roads and highways in the state of Nevada in the United States. This network includes both state highways maintained by the Nevada Department of Transportation (NDOT) and local roads maintained by counties and cities. Some of the major highways in the Nevada route network include:
Interstates: I-80, I-15, I-580
U.S. Highways: US-6, US-50, US-93, US-95, US-395, US-466
State Highways: SR-160, SR-318, SR-375, SR-447, SR-449, SR-564
The Nevada route network provides transportation and connectivity for residents, visitors, and commerce within the state.
Counties of Nevada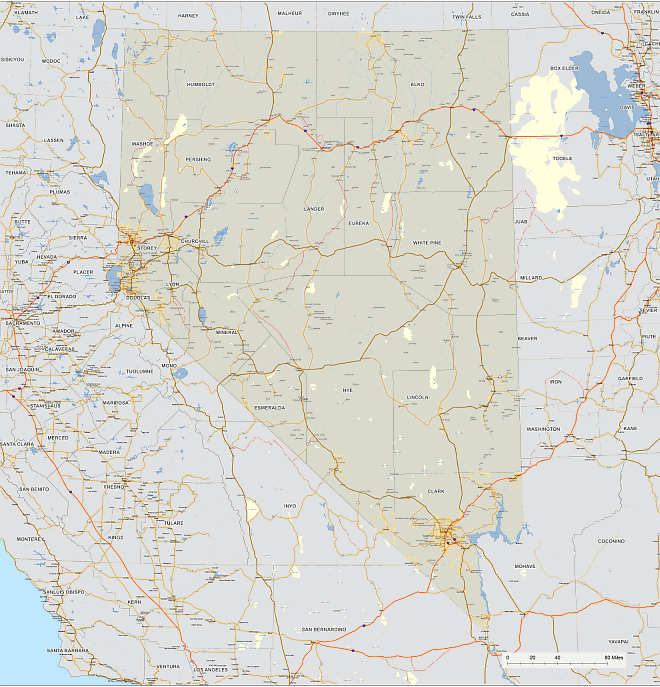 Nevada is a state in the western United States and is divided into 16 counties:
Churchill County
Clark County
Douglas County
Elko County
Esmeralda County
Eureka County
Humboldt County
Lander County
Lincoln County
Lyon County
Mineral County
Nye County
Pershing County
Storey County
Washoe County
White Pine County
Cities in Nevada state
Illustrator artwork shows 628 villages and cities
US-NV-cities-roads-map-628 file size is AI: 7,9 MB, PDF:9,08 MB
Other Nevada map
Nevada 3 digit zip code vector map Nevada sate vector zip code map. Counties of Mountain region 8 state county map
The US-NV-cities-roads-map-628  file in vector format enable the user organise level of structuring of map.
A vector file (ai, pdf) has flexible tools for displaying elements of maps
- you can discrete or arbitrary scaling map
- performing group operation with selected features
- changing the orders of displaying layers
- switching in/off displaying os any layers
- changing attributes of selected object ( recolour, modify outline thick, transparency, symbols)
- adding or changing features of any items, (i.e. font type)
- copying and moving particular shapes
- merging different shapes (i.e. counties)
- adding, removing cartography symbols

For editing ai, pdf file use the most common Adobe Illustrator (version 10 or higher) or CorelDRAW (version 10 or higher). If you don't have Adobe Illustrator or Corel you can choose
free open source Inkscape - 57 MB -(Windows, Mac, Linux platform ) or Scribus (Windows, Mac, Linux (54 MB)