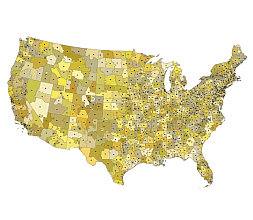 USA three digit zip code vector map . All counties (3243) in the United States on an Illustrator vector file
Areas of counties on separate layers. Albers projection.
Free 3 digit zip code maps of the united states for businesses and cartographers.3 digit ZIP codes represent larger areas around the nation. A 3-digit ZIP code is simply the first three digits of a 5-digit ZIP code.
Zip code maps Alaska, Alabama, Arkansas, Arizona, California, Colorad, Connecticut, Delaware, Florida, Georgia, Iowa, Idaho, Illinois, Indiana, Kansas, Kentucky, Louisiana, Massahusetts, Maryland, Maine, Michigan, Minnesota, Missouri, Mississippi, Montan, North Carolina, North dakota, Nebraska, New Hampshire, New Mexico, New Jersey, Nevada, New York, Ohio, Oklahoma, Oregon, Pennsylvania,
USA three digit zip code vector map of Rhode Island, South Carolina, South Dakota, Tennessee, Texas, Utah, Virginia, Vermont, Washington, Wisconsin, West Virginia, Wyoming.
Illustrator (cs5) file size: 16 M
Layered PDF file: 15 M