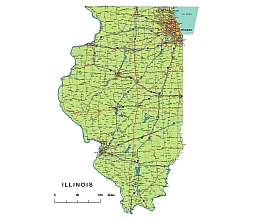 Illinois State National and State Highways map
Layers
-county name black of state Illinois
-country name white of state Illinois
-names of rivers, lakes of state Illinois
-capital sign of state Illinois
-highway symbols of state Illinois
-road signs state Illinois
-city names of state Illinois
-highway – lines of state Illinois
-A road lines of state Illinois
-B road lines of state Illinois
-C road lines of state Illinois
-lakes of state Illinois
-rivers of state Illinois
-urban areas of state Illinois
-state border os state Illinois
-counties of state  Illinois
Major Counties:
Champaign, Cook, DuPage, Kane, Lake, Madison, McHenry, McLean, Peoria, Rock Island, Sangamon, St. Clair, Tazewell, Will, Winnebago
---
Counties:
Adams
,   Alexander,    Bond,    Boone,    Brown,    Bureau,    Calhoun,    Carroll,    Cass,    Champaign,    Christian,    Clark,    Clay,    Clinton,    Coles, Cook,    Crawford,    Cumberland,    De Witt,   DeKalb,    Douglas,    DuPage,    Edgar,    Edwards, Effingham,   Fayette,   Ford,    Franklin,   Fulton, Gallatin,    Greene,    Grundy,    Hamilton,    Hancock,   Hardin,    Henderson,    Henry,    Iroquois,    Jackson,    Jasper,    Jefferson,    Jersey,    Jo Daviess,    Johnson,    Kane,    Kankakee,    Kendall,   Knox,    LaSalle,    Lake,    Lawrence,    Lee,    Livingston,    Logan,    Macon,    Macoupin, Madison,    Marion,    Marshall,    Mason,    Massac,    McDonough,    McHenry,    McLean,    Menard,   Mercer,   Monroe,   Montgomery,    Morgan, Moultrie,    Ogle,    Peoria,    Perry,    Piatt,    Pike,    Pope,    Pulaski,    Putnam,    Randolph,    Richland,    Rock Island,    Saline,   Sangamon, Schuyler,    Scott,    Shelby,    St. Clair,    Stark,    Stephenson,   Tazewell,    Union,    Vermilion,    Wabash,    Warren,    Washington,   Wayne,    White,    Whiteside,    Will,    Williamson,    Winnebago,    Woodford
---
Bloomington Area ,    Burlington Area,     Canton Area,    Cape Girardeau Area,    Carbondale Area,     Centralia Area,    Champaign Area,    Charleston Area,    Chicago Area,    Danville Area,    Davenport Area,    Decatur Area,   Dixon Area,     Effingham Area,    Fort Madison Area, Freeport Area,    Galesburg Area,     Jacksonville Area,    Kankakee Area,     Lincoln Area,     Macomb Area,     Mount Vernon Area,    Ottawa Area, Paducah Area,    Peoria Area,    Pontiac Area,    Quincy Area,    Rochelle Area,    Rockford Area,     Springfield Area,     St. Louis Area,    Sterling Area,    Taylorville Area
---
Illinois Interstates:
North-South interstates include: Interstate 39, Interstate 55 and Interstate 57. East-West interstates include: Interstate 24, Interstate 64, Interstate 70, Interstate 72, Interstate 74, Interstate 80, Interstate 88, Interstate 90, Interstate 94 and Interstate 294.
Illinois Routes:
US Highways and State Routes include: Route 1, Route 17, Route 19, Route 23, Route 25, Route 27, Route 27A, Route 29, Route 41, Route 76, Route 78, Route 80, Route 82, Route 84, Route 129, Route 221, Route 278, route 280, Route 301, Route 319, Route 341, Route 378 and Route 441.