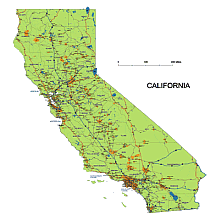 California State National and State Higways map
Layers


-county name black of state California
-country name white of state California
-names of rivers, lakes of state California
-capital sign of state California
-highway symbols of state California
-road singns state California
-city names of state California
-highway – lines of state California
-A road lines of state California
-B road lines of state California
-C road lines of state California
-lakes of state California
-rivers of state California
-urban areas of state California
-state border os state California
-counties of state  California
Metro Areas:
Bakersfield Area, Chico Area, Clearlake Area, Crescent City Area, El Centro Area, Eureka Area, Fresno Area, Hanford Area, Los Angeles Area, Madera Area, Merced Area, Modesto Area, Napa Area, Oxnard Area, Red Bluff Area, Redding Area, Riverside Area, Sacramento Area, Salinas Area, San Diego Area, San Francisco Area, San Jose Area, San Luis Obispo Area, Santa Cruz Area, Santa Maria Area, Santa Rosa Area, Sonora Area, Stockton Area, Susanville Area, Truckee Area, Ukiah Area, Vallejo Area, Visalia Area, Yuba City Area
---
Major Cities:
Anaheim, Bakersfield, Chula Vista, Concord, Corona, Elk Grove, Escondido, Fontana, Fremont, Fresno, Fullerton, Garden Grove, Glendale, Hayward, Huntington Beach, Irvine, Lancaster, Long Beach, Los Angeles, Modesto, Moreno Valley, Oakland, Oceanside, Ontario, Orange, Oxnard, Palmdale, Pasadena, Pomona, Rancho Cucamonga, Riverside, Roseville, Sacramento, Salinas, San Bernardino, San Diego, San Francisco, San Jose, Santa Ana, Santa Clara, Santa Clarita, Santa Rosa, Simi Valley, Stockton, Sunnyvale, Thousand Oaks, Torrance,
California Interstates:
North-South interstates include: Interstate 5 and Interstate 15. East-West interstates include: Interstate 8, Interstate 10, Interstate 40 and Interstate 80.
California Routes:
US Highways and State Routes include: Route 6, Route 50, Route 101, Route 199 and Route 395.