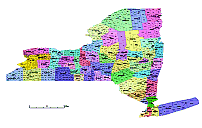 Municipalities map of New York state
New York State has 62 counties, including the five boroughs of New York City (Bronx, Kings, New York, Queens, and Richmond). It also has many cities, towns, and villages, which are organized into more than 1,500 municipalities. The largest cities in New York State are New York City, Buffalo, Rochester, Yonkers, and Syracuse.
Other New York maps:
County seats,county FIPS codes AI map of New York
New York state zip code kml files
New York State vector road map.
Mid Atlantic region counties. 3 state county map
North Hempstead vector route map. CS5 version. 10 MB
County seats,county FIPS codes AI map of New York
Albany County,
NY is not subdivided into smaller counties, but it is divided into 11 towns and 3 cities. The towns in Albany County are:
Berne
Bethlehem
Coeymans
Colonie
Green Island
Guilderland
Knox
New Scotland
Rensselaerville
Westerlo
Watervliet
The cities in Albany County are:
Albany (the county seat)
Cohoes
Watervliet
Municipalities map of New York state
Allegany County, NY
is divided into 10 towns, 1 village, and 1 city. The towns in Allegany County are:
Alfred
Allen
Alma
Amity
Andover
Angelica
Belfast
Birdsall
Bolivar
Burns
The village in Allegany County is:
Alfred
The city in Allegany County is:
Olean (the county seat)
Municipalities map of New York state
Bronx County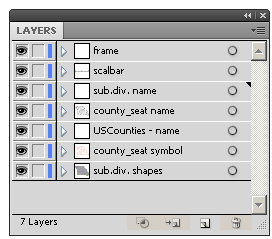 Municipalities map of New York state
Albany county in New York State
Allegany county in New York State
Bronx county in New York State
Broome county in New York State
Cattaraugus county in New York State
Cayuga county in New York State
Chautauqua county in New York State
Chemung county in New York State
Chenango county in New York State
Clinton county in New York State
Columbia county in New York State
Cortland county in New York State
Delaware county in New York State
Dutchess county in New York State
Erie county in New York State
Essex county in New York State
Franklin county in New York State
Municipalities map of New York state
Fulton county in New York State
Genesee county in New York State
Greene county in New York State
Hamilton county in New York State
Herkimer county in New York State
Jefferson county in New York State
Kings (Brooklyn) county in New York State
Lewis county in New York State
Livingston county in New York State
Madison county in New York State
Monroe county in New York State
Montgomery county in New York State
Nassau county in New York State
New York (Manhattan) county in New York State
Niagara county in New York State
Oneida county in New York State
Onondaga county in New York State
Ontario county in New York State
Orange county in New York State
Orleans county in New York State
Oswego county in New York State
Otsego county in New York State
Putnam county in New York State
Queens county in New York State
Rensselaer county in New York State
Richmond (Staten Island) county in New York State
Municipalities map of New York state
Rockland county in New York State
Saratoga county in New York State
Schenectady county in New York State
Schoharie county in New York State
Schuyler county in New York State
Seneca county in New York State
Steuben county in New York State
Suffolk county in New York State
Sullivan county in New York State
Tioga county in New York State
Tompkins county in New York State
Ulster county in New York State
Warren county in New York State
Washington county in New York State
Wayne county in New York State
Westchester county in New York State
Wyoming county in New York State
Yates county in New York State
New York City (consists of the five boroughs: Bronx, Kings, New York, Queens, and Richmond) county in New York State
Municipalities map of New York state