New Jersey state zip code kml files
You can use it to display marketing tasks and publish group-specific data on map.New Jersey has 595 kml files
A KML (Keyhole Markup Language) file
A KML (Keyhole Markup Language) file is a file format used to display geographic data in an Earth browser such as Google Earth, Google Maps, and other online mapping tools. KML files can include points, lines, polygons, and images that are placed on a three-dimensional globe.
KML files use XML markup language to define and display the geographic data. This allows KML files to include a wide range of information, such as placemarks, annotations, 3D models, and even custom data. KML files can be created using software like Google Earth or other mapping software, or can be generated dynamically using programming languages like Python.
New Jersey state zip code kml files
KML files are widely used for displaying and sharing geographic data, and can be used for a variety of applications such as visualizing geographic data, creating interactive maps, and analyzing geospatial information.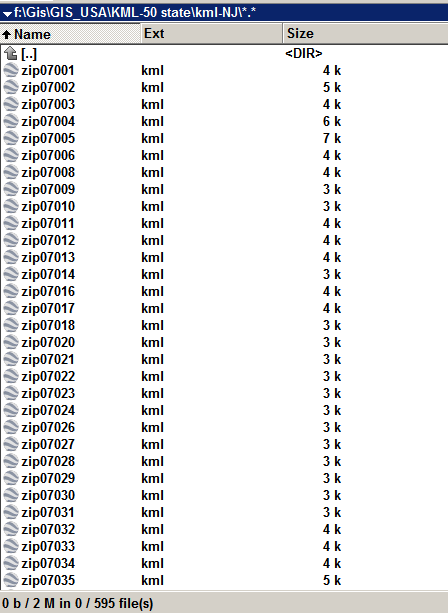 How to use kml file in Google maps?

Types of zip codes
There are several types of zip codes in the United States that serve different purposes. Here are some of the main types of zip codes:
1.Standard zip code
ZIP Code: The most common type of zip code used for general mail delivery to residential and commercial addresses.
2.ZIP+4 Code
An expanded version of the basic 5-digit ZIP Code that includes an additional four digits to help pinpoint the delivery location more precisely.
3.,Unique ZIP Code
Used for specific addresses, such as a large business or government agency that receives a large volume of mail.
4,Military ZIP Code
Used for military installations and overseas addresses.
5. PO Box ZIP Code
Used exclusively for post office boxes and not associated with any specific street address.
Here are the zip codes for Trenton, New Jersey:
08608: Trenton
08609: Trenton
08610: Hamilton Township, Trenton
08611: Trenton
08618: Ewing Township, Trenton
08619: Hamilton Township
08620: Hamilton Township, Chesterfield Township
08628: Ewing Township, West Trenton
08629: Trenton
08638: Ewing Township
08641: Trenton
08645: Trenton
08646: Trenton
08650: Trenton
08666: Trenton
The New Jersey state zip code kml files  file in vector format enable the user organise level of structuring of map.
A vector file (ai, pdf) has flexible tools for displaying elements of maps
- you can discrete or arbitrary scaling map
- performing group operation with selected features
- changing the orders of displaying layers
- switching in/off displaying os any layers
- changing attributes of selected object ( recolour, modify outline thick, transparency, symbols)
- adding or changing features of any items, (i.e. font type)
- copying and moving particular shapes
- merging different shapes (i.e. counties)
- adding, removing cartography symbols

For editing ai, pdf file use the most common Adobe Illustrator (version 10 or higher) or CorelDRAW (version 10 or higher). If you don't have Adobe Illustrator or Corel you can choose
free open source Inkscape - 57 MB -(Windows, Mac, Linux platform ) or Scribus (Windows, Mac, Linux (54 MB)