Political subdivion of Maine state
What are Maine State Counties?
Maine state county Illustrator map include 16 county shapes.
Androscoggin County
Aroostook County
Cumberland County
Franklin County
Hancock County
Kennebec County
Knox County
Lincoln County
Oxford County
Penobscot County
Piscataquis County
Sagadahoc County
Somerset County
Waldo County
Washington County
York County
What is Illustrator File good for?
Creating logos: Illustrator is widely used to design and create logos for businesses, organizations, and individuals. Since logos need to be versatile and adaptable, Illustrator's vector-based tools allow for easy resizing and editing without compromising on quality.
Designing artwork: Illustrator is often used to create high-quality artwork, such as posters, illustrations, and infographics. With its powerful tools and flexibility, designers can create unique and visually stunning designs.
Maine state county Illustrator map as aditable pdf file.
Creating typography: Illustrator is also used to create custom typography, fonts, and text effects. Designers can use the software's tools to manipulate type and create unique letterforms and styles.
Preparing files for print: Illustrator is a popular tool for preparing files for print, such as business cards, brochures, and packaging. Since Illustrator files are vector-based, they can be easily scaled up or down without losing quality, making them ideal for printing.
Web design: Illustrator can also be used to create graphics and design elements for websites, such as buttons, icons, and banners. The software allows for easy export of files in a variety of formats, including SVG, which is widely used for web graphics.
Overall, Adobe Illustrator is a powerful tool for creating and editing vector-based graphics for a wide range of applications.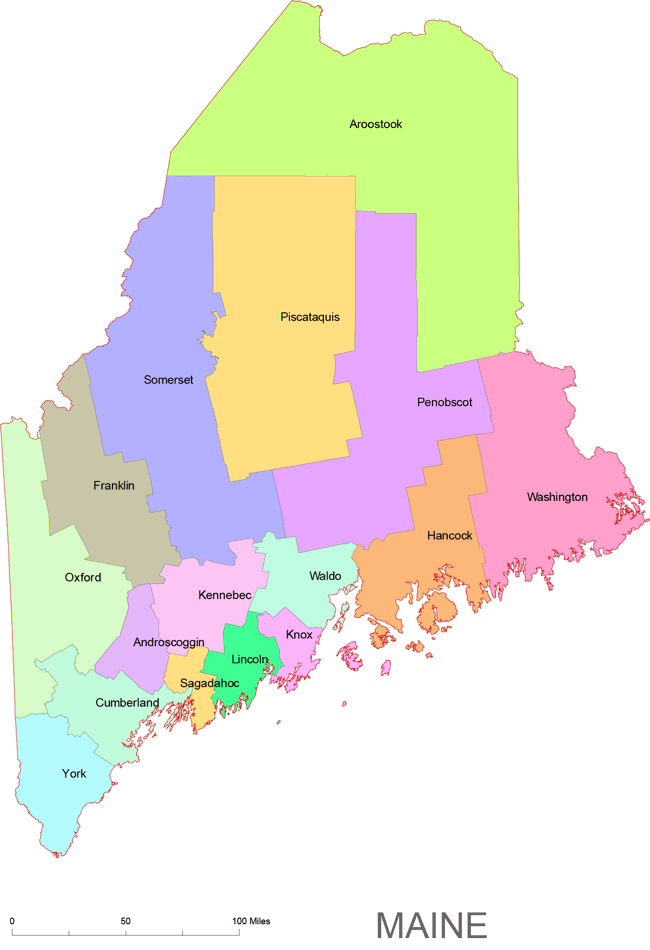 The Maine state county Illustrator map  file in vector format enable the user organise level of structuring of map.
A vector file (ai, pdf) has flexible tools for displaying elements of maps
- you can discrete or arbitrary scaling map
- performing group operation with selected features
- changing the orders of displaying layers
- switching in/off displaying os any layers
- changing attributes of selected object ( recolour, modify outline thick, transparency, symbols)
- adding or changing features of any items, (i.e. font type)
- copying and moving particular shapes
- merging different shapes (i.e. counties)
- adding, removing cartography symbols

For editing ai, pdf file use the most common Adobe Illustrator (version 10 or higher) or CorelDRAW (version 10 or higher). If you don't have Adobe Illustrator or Corel you can choose
free open source Inkscape - 57 MB -(Windows, Mac, Linux platform ) or Scribus (Windows, Mac, Linux (54 MB)