There are two types of vector maps on the webshop.
Colorado state zip & county map. This is now the more complex version. Illustrator, PDF file Price:$25 One of the simpler ones contains only zip code fields, numbers, and county borders on a separate layer.
Theirs contain fields, numbers, and the names of the primary settlements. The state's counties can be found on it, along with their titles.
The county map, available in different colors, can also be used separately.
Colorado zip code Excel file. 2023.
Zip code range in Colorado: from 80001-to 81658. The number of zip codes:662. Standard:448, PO BOX:158, Unique: 56
Colorado state zip & county map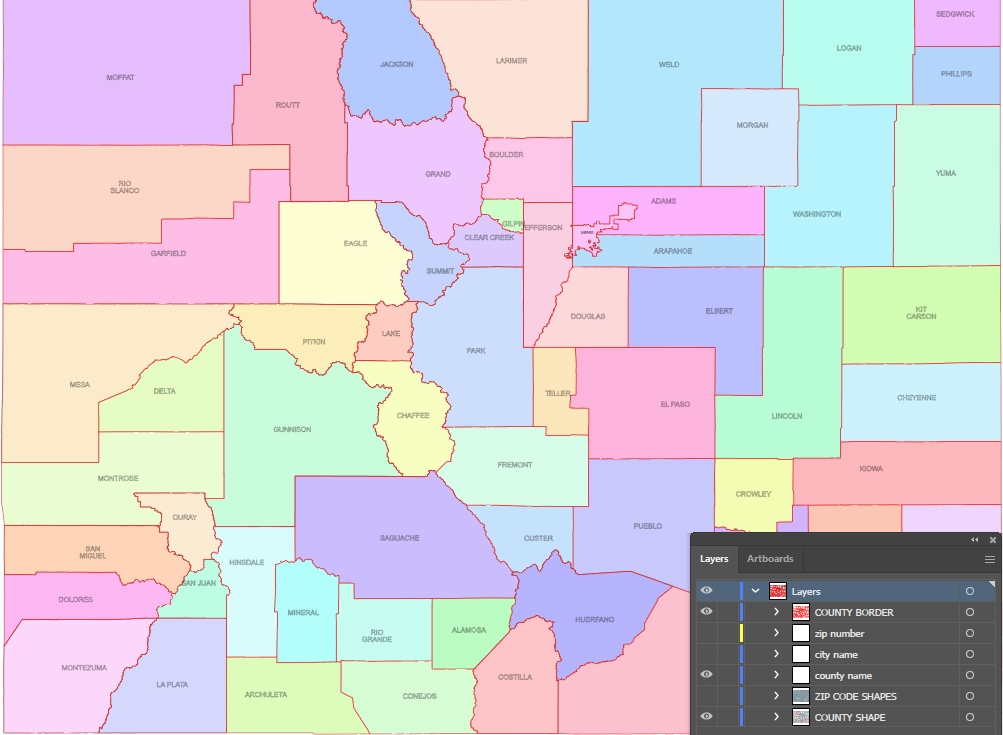 Colorado state zip & county map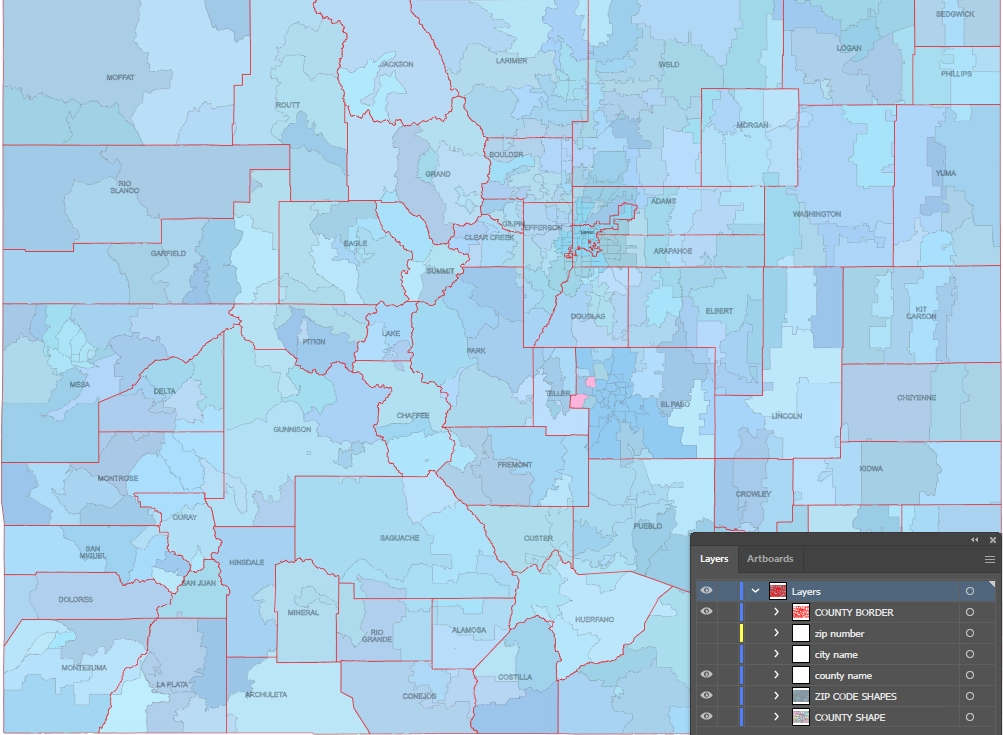 Zoom in map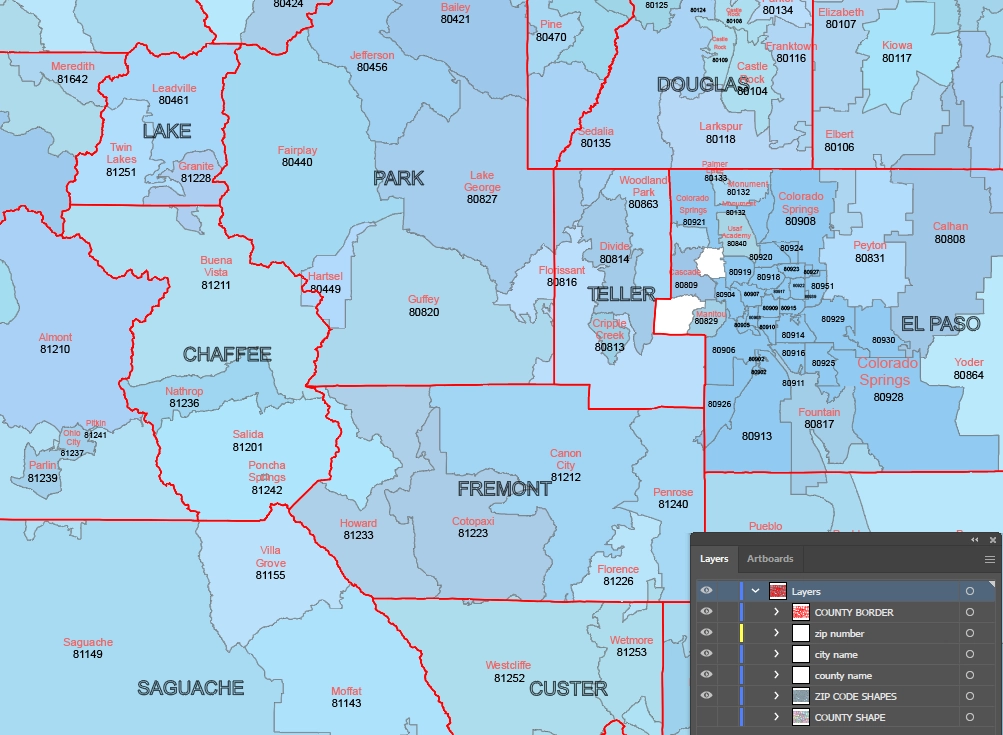 Detailed zip code list Colorado

More Colorado zip codes

| | | | |
| --- | --- | --- | --- |
| ZIP Code 80018 | Aurora | Arapahoe | Standard |
| ZIP Code 80019 | Aurora | Adams | Standard |
| ZIP Code 80020 | Broomfield | Broomfield | Standard |
| ZIP Code 80021 | Broomfield | Jefferson | Standard |
| ZIP Code 80022 | Commerce City | Adams | Standard |
| ZIP Code 80023 | Broomfield | Broomfield | Standard |
| ZIP Code 80024 | Dupont | Adams | P.O. Box |
| ZIP Code 80025 | Eldorado Springs | Boulder | P.O. Box |
| ZIP Code 80026 | Lafayette | Boulder | Standard |
| ZIP Code 80027 | Louisville | Boulder | Standard |
| ZIP Code 80030 | Westminster | Adams | Standard |
| ZIP Code 80031 | Westminster | Adams | Standard |
| ZIP Code 80033 | Wheat Ridge | Jefferson | Standard |
| ZIP Code 80034 | Wheat Ridge | Jefferson | P.O. Box |
| ZIP Code 80035 | Westminster | Adams | P.O. Box |
| ZIP Code 80036 | Westminster | Adams | P.O. Box |
| ZIP Code 80037 | Commerce City | Adams | P.O. Box |
| ZIP Code 80038 | Broomfield | Broomfield | P.O. Box |
| ZIP Code 80040 | Aurora | Adams | P.O. Box |
| ZIP Code 80041 | Aurora | Arapahoe | P.O. Box |
| ZIP Code 80042 | Aurora | Adams | P.O. Box |
| ZIP Code 80044 | Aurora | Arapahoe | P.O. Box |
| ZIP Code 80045 | Aurora | Adams | Standard |
| ZIP Code 80046 | Aurora | Arapahoe | P.O. Box |
| ZIP Code 80047 | Aurora | Arapahoe | P.O. Box |
| ZIP Code 80101 | Agate | Elbert | Standard |
| ZIP Code 80102 | Bennett | Adams | Standard |
| ZIP Code 80103 | Byers | Arapahoe | Standard |
| ZIP Code 80104 | Castle Rock | Douglas | Standard |
| ZIP Code 80105 | Deer Trail | Arapahoe | Standard |
| ZIP Code 80106 | Elbert | El Paso | Standard |
| ZIP Code 80107 | Elizabeth | Elbert | Standard |
| ZIP Code 80108 | Castle Rock | Douglas | Standard |
| ZIP Code 80109 | Castle Rock | Douglas | Standard |
| ZIP Code 80110 | Englewood | Arapahoe | Standard |
| ZIP Code 80111 | Englewood | Arapahoe | Standard |
| ZIP Code 80112 | Englewood | Arapahoe | Standard |
| ZIP Code 80113 | Englewood | Arapahoe | Standard |
| ZIP Code 80116 | Franktown | Douglas | Standard |
| ZIP Code 80117 | Kiowa | Elbert | Standard |
| ZIP Code 80118 | Larkspur | Douglas | Standard |
| ZIP Code 80120 | Littleton | Arapahoe | Standard |
| ZIP Code 80121 | Littleton | Arapahoe | Standard |
| ZIP Code 80122 | Littleton | Arapahoe | Standard |
| ZIP Code 80123 | Littleton | Jefferson | Standard |
| ZIP Code 80124 | Lone Tree | Douglas | Standard |
| ZIP Code 80125 | Littleton | Douglas | Standard |
| ZIP Code 80126 | Littleton | Douglas | Standard |
| ZIP Code 80127 | Littleton | Jefferson | Standard |
| ZIP Code 80128 | Littleton | Jefferson | Standard |
| ZIP Code 80129 | Littleton | Douglas | Standard |
| ZIP Code 80130 | Littleton | Douglas | Standard |
| ZIP Code 80131 | Louviers | Douglas | P.O. Box |
| ZIP Code 80132 | Monument | El Paso | Standard |
| ZIP Code 80133 | Palmer Lake | El Paso | Standard |
| ZIP Code 80134 | Parker | Douglas | Standard |
| ZIP Code 80135 | Sedalia | Douglas | Standard |
| ZIP Code 80136 | Strasburg | Adams | Standard |
| ZIP Code 80137 | Watkins | Adams | Standard |
| ZIP Code 80138 | Parker | Douglas | Standard |
| ZIP Code 80150 | Englewood | Arapahoe | P.O. Box |
| ZIP Code 80151 | Englewood | Arapahoe | P.O. Box |
| ZIP Code 80155 | Englewood | Arapahoe | P.O. Box |
| ZIP Code 80160 | Littleton | Arapahoe | P.O. Box |
| ZIP Code 80161 | Littleton | Arapahoe | P.O. Box |
| ZIP Code 80162 | Littleton | Jefferson | P.O. Box |
| ZIP Code 80163 | Littleton | Douglas | P.O. Box |
| ZIP Code 80165 | Littleton | Arapahoe | Unique |
| ZIP Code 80166 | Littleton | Arapahoe | Unique |
| ZIP Code 80201 | Denver | Denver | P.O. Box |
| ZIP Code 80202 | Denver | Denver | Standard |
| ZIP Code 80203 | Denver | Denver | Standard |
| ZIP Code 80204 | Denver | Denver | Standard |
| ZIP Code 80205 | Denver | Denver | Standard |
| ZIP Code 80206 | Denver | Denver | Standard |
| ZIP Code 80207 | Denver | Denver | Standard |
| ZIP Code 80208 | Denver | Denver | Unique |
| ZIP Code 80209 | Denver | Denver | Standard |
| ZIP Code 80210 | Denver | Denver | Standard |
| ZIP Code 80211 | Denver | Denver | Standard |
| ZIP Code 80212 | Denver | Denver | Standard |
| ZIP Code 80214 | Denver | Jefferson | Standard |
| ZIP Code 80215 | Denver | Jefferson | Standard |
| ZIP Code 80216 | Denver | Denver | Standard |
| ZIP Code 80217 | Denver | Denver | P.O. Box |
| ZIP Code 80218 | Denver | Denver | Standard |
| ZIP Code 80219 | Denver | Denver | Standard |
| ZIP Code 80220 | Denver | Denver | Standard |
| ZIP Code 80221 | Denver | Adams | Standard |
| ZIP Code 80222 | Denver | Denver | Standard |
| ZIP Code 80223 | Denver | Denver | Standard |
| ZIP Code 80224 | Denver | Denver | Standard |
| ZIP Code 80225 | Denver | Jefferson | P.O. Box |
| ZIP Code 80226 | Denver | Jefferson | Standard |
| ZIP Code 80227 | Denver | Jefferson | Standard |
| ZIP Code 80228 | Denver | Jefferson | Standard |
| ZIP Code 80229 | Denver | Adams | Standard |
| ZIP Code 80230 | Denver | Denver | Standard |
| ZIP Code 80231 | Denver | Denver | Standard |
| ZIP Code 80232 | Denver | Jefferson | Standard |
| ZIP Code 80233 | Denver | Adams | Standard |
| ZIP Code 80234 | Denver | Adams | Standard |
| ZIP Code 80235 | Denver | Jefferson | Standard |
| ZIP Code 80236 | Denver | Denver | Standard |
| ZIP Code 80237 | Denver | Denver | Standard |
| ZIP Code 80238 | Denver | Denver | Standard |
| ZIP Code 80239 | Denver | Denver | Standard |
| ZIP Code 80241 | Thornton | Adams | Standard |
| ZIP Code 80243 | Denver | Denver | Unique |
| ZIP Code 80246 | Denver | Denver | Standard |
| ZIP Code 80247 | Denver | Arapahoe | Standard |
| ZIP Code 80248 | Denver | Denver | P.O. Box |
| ZIP Code 80249 | Denver | Denver | Standard |
| ZIP Code 80250 | Denver | Denver | P.O. Box |
| ZIP Code 80256 | Denver | Denver | Unique |
| ZIP Code 80257 | Denver | Denver | Unique |
| ZIP Code 80259 | Denver | Denver | Unique |
| ZIP Code 80260 | Denver | Adams | Standard |
| ZIP Code 80261 | Denver | Denver | Unique |
| ZIP Code 80263 | Denver | Denver | Unique |
| ZIP Code 80264 | Denver | Denver | Standard |
| ZIP Code 80265 | Denver | Denver | Standard |
| ZIP Code 80266 | Denver | Denver | Standard |
| ZIP Code 80271 | Denver | Denver | Unique |
| ZIP Code 80273 | Denver | Denver | Unique |
| ZIP Code 80274 | Denver | Denver | Unique |
| ZIP Code 80281 | Denver | Denver | Unique |
| ZIP Code 80290 | Denver | Denver | Standard |
| ZIP Code 80291 | Denver | Denver | Unique |
| ZIP Code 80293 | Denver | Denver | Standard |
| ZIP Code 80294 | Denver | Denver | Standard |
| ZIP Code 80299 | Denver | Denver | Standard |
| ZIP Code 80301 | Boulder | Boulder | Standard |
| ZIP Code 80302 | Boulder | Boulder | Standard |
| ZIP Code 80303 | Boulder | Boulder | Standard |
| ZIP Code 80304 | Boulder | Boulder | Standard |
| ZIP Code 80305 | Boulder | Boulder | Standard |
| ZIP Code 80306 | Boulder | Boulder | P.O. Box |
| ZIP Code 80307 | Boulder | Boulder | P.O. Box |
| ZIP Code 80308 | Boulder | Boulder | P.O. Box |
| ZIP Code 80309 | Boulder | Boulder | Unique |
| ZIP Code 80310 | Boulder | Boulder | Unique |
| ZIP Code 80314 | Boulder | Boulder | Unique |
| ZIP Code 80401 | Golden | Jefferson | Standard |
| ZIP Code 80402 | Golden | Jefferson | P.O. Box |
| ZIP Code 80403 | Golden | Jefferson | Standard |
| ZIP Code 80419 | Golden | Jefferson | Unique |
| ZIP Code 80420 | Alma | Park | P.O. Box |
| ZIP Code 80421 | Bailey | Park | Standard |
| ZIP Code 80422 | Black Hawk | Gilpin | Standard |
| ZIP Code 80423 | Bond | Eagle | Standard |
| ZIP Code 80424 | Breckenridge | Summit | Standard |
| ZIP Code 80425 | Buffalo Creek | Jefferson | P.O. Box |
| ZIP Code 80426 | Burns | Eagle | P.O. Box |
| ZIP Code 80427 | Central City | Gilpin | P.O. Box |
| ZIP Code 80428 | Clark | Routt | Standard |
| ZIP Code 80429 | Climax | Lake | P.O. Box |
| ZIP Code 80430 | Coalmont | Jackson | Standard |
| ZIP Code 80432 | Como | Park | P.O. Box |
| ZIP Code 80433 | Conifer | Jefferson | Standard |
| ZIP Code 80434 | Cowdrey | Jackson | P.O. Box |
| ZIP Code 80435 | Dillon | Summit | Standard |
| ZIP Code 80436 | Dumont | Clear Creek | P.O. Box |
| ZIP Code 80437 | Evergreen | Jefferson | P.O. Box |
| ZIP Code 80438 | Empire | Clear Creek | P.O. Box |
| ZIP Code 80439 | Evergreen | Jefferson | Standard |
| ZIP Code 80440 | Fairplay | Park | Standard |
| ZIP Code 80442 | Fraser | Grand | P.O. Box |
| ZIP Code 80443 | Frisco | Summit | P.O. Box |
| ZIP Code 80444 | Georgetown | Clear Creek | P.O. Box |
| ZIP Code 80446 | Granby | Grand | Standard |
| ZIP Code 80447 | Grand Lake | Grand | Standard |
| ZIP Code 80448 | Grant | Park | P.O. Box |
| ZIP Code 80449 | Hartsel | Park | Standard |
| ZIP Code 80451 | Hot Sulphur Springs | Grand | P.O. Box |
| ZIP Code 80452 | Idaho Springs | Clear Creek | Standard |
| ZIP Code 80453 | Idledale | Jefferson | P.O. Box |
| ZIP Code 80454 | Indian Hills | Jefferson | P.O. Box |
| ZIP Code 80455 | Jamestown | Boulder | Standard |
| ZIP Code 80456 | Jefferson | Park | Standard |
| ZIP Code 80457 | Kittredge | Jefferson | P.O. Box |
| ZIP Code 80459 | Kremmling | Grand | Standard |
| ZIP Code 80461 | Leadville | Lake | Standard |
| ZIP Code 80463 | Mc Coy | Eagle | Standard |
| ZIP Code 80465 | Morrison | Jefferson | Standard |
| ZIP Code 80466 | Nederland | Boulder | Standard |
| ZIP Code 80467 | Oak Creek | Routt | Standard |
| ZIP Code 80468 | Parshall | Grand | Standard |
| ZIP Code 80469 | Phippsburg | Routt | P.O. Box |
| ZIP Code 80470 | Pine | Jefferson | Standard |
| ZIP Code 80471 | Pinecliffe | Boulder | P.O. Box |
| ZIP Code 80473 | Rand | Jackson | P.O. Box |
| ZIP Code 80474 | Rollinsville | Gilpin | P.O. Box |
| ZIP Code 80475 | Shawnee | Park | P.O. Box |
| ZIP Code 80476 | Silver Plume | Clear Creek | P.O. Box |
| ZIP Code 80477 | Steamboat Springs | Routt | P.O. Box |
| ZIP Code 80478 | Tabernash | Grand | P.O. Box |
| ZIP Code 80479 | Toponas | Routt | P.O. Box |
| ZIP Code 80480 | Walden | Jackson | Standard |
| ZIP Code 80481 | Ward | Boulder | Standard |
| ZIP Code 80482 | Winter Park | Grand | P.O. Box |
| ZIP Code 80483 | Yampa | Routt | P.O. Box |
| ZIP Code 80487 | Steamboat Springs | Routt | Standard |
| ZIP Code 80488 | Steamboat Springs | Routt | P.O. Box |
| ZIP Code 80497 | Silverthorne | Summit | P.O. Box |
| ZIP Code 80498 | Silverthorne | Summit | Standard |
| ZIP Code 80501 | Longmont | Boulder | Standard |
| ZIP Code 80502 | Longmont | Boulder | P.O. Box |
| ZIP Code 80503 | Longmont | Boulder | Standard |
| ZIP Code 80504 | Longmont | Weld | Standard |
| ZIP Code 80510 | Allenspark | Boulder | Standard |
| ZIP Code 80511 | Estes Park | Larimer | P.O. Box |
| ZIP Code 80512 | Bellvue | Larimer | Standard |
| ZIP Code 80513 | Berthoud | Larimer | Standard |
| ZIP Code 80514 | Dacono | Weld | Standard |
| ZIP Code 80515 | Drake | Larimer | Standard |
| ZIP Code 80516 | Erie | Boulder | Standard |
| ZIP Code 80517 | Estes Park | Larimer | Standard |
| ZIP Code 80520 | Firestone | Weld | P.O. Box |
| ZIP Code 80521 | Fort Collins | Larimer | Standard |
| ZIP Code 80522 | Fort Collins | Larimer | P.O. Box |
| ZIP Code 80523 | Fort Collins | Larimer | Unique |
| ZIP Code 80524 | Fort Collins | Larimer | Standard |
| ZIP Code 80525 | Fort Collins | Larimer | Standard |
| ZIP Code 80526 | Fort Collins | Larimer | Standard |
| ZIP Code 80527 | Fort Collins | Larimer | P.O. Box |
| ZIP Code 80528 | Fort Collins | Larimer | Standard |
| ZIP Code 80530 | Frederick | Weld | Standard |
| ZIP Code 80532 | Glen Haven | Larimer | P.O. Box |
| ZIP Code 80533 | Hygiene | Boulder | P.O. Box |
| ZIP Code 80534 | Johnstown | Weld | Standard |
| ZIP Code 80535 | Laporte | Larimer | Standard |
| ZIP Code 80536 | Livermore | Larimer | Standard |
| ZIP Code 80537 | Loveland | Larimer | Standard |
| ZIP Code 80538 | Loveland | Larimer | Standard |
| ZIP Code 80539 | Loveland | Larimer | P.O. Box |
| ZIP Code 80540 | Lyons | Boulder | Standard |
| ZIP Code 80541 | Masonville | Larimer | P.O. Box |
| ZIP Code 80542 | Mead | Weld | Standard |
| ZIP Code 80543 | Milliken | Weld | Standard |
| ZIP Code 80544 | Niwot | Boulder | P.O. Box |
| ZIP Code 80545 | Red Feather Lakes | Larimer | Standard |
| ZIP Code 80546 | Severance | Weld | P.O. Box |
| ZIP Code 80547 | Timnath | Larimer | Standard |
| ZIP Code 80549 | Wellington | Larimer | Standard |
| ZIP Code 80550 | Windsor | Weld | Standard |
| ZIP Code 80551 | Windsor | Weld | Unique |
| ZIP Code 80553 | Fort Collins | Larimer | Unique |
| ZIP Code 80601 | Brighton | Adams | Standard |
| ZIP Code 80602 | Brighton | Adams | Standard |
| ZIP Code 80603 | Brighton | Weld | Standard |
| ZIP Code 80610 | Ault | Weld | Standard |
| ZIP Code 80611 | Briggsdale | Weld | Standard |
| ZIP Code 80612 | Carr | Weld | Standard |
| ZIP Code 80614 | Eastlake | Adams | P.O. Box |
| ZIP Code 80615 | Eaton | Weld | Standard |
| ZIP Code 80620 | Evans | Weld | Standard |
| ZIP Code 80621 | Fort Lupton | Weld | Standard |
| ZIP Code 80622 | Galeton | Weld | Standard |
| ZIP Code 80623 | Gilcrest | Weld | P.O. Box |
| ZIP Code 80624 | Gill | Weld | Standard |
| ZIP Code 80631 | Greeley | Weld | Standard |
| ZIP Code 80632 | Greeley | Weld | P.O. Box |
| ZIP Code 80633 | Greeley | Weld | P.O. Box |
| ZIP Code 80634 | Greeley | Weld | Standard |
| ZIP Code 80638 | Greeley | Weld | Unique |
| ZIP Code 80639 | Greeley | Weld | Unique |
| ZIP Code 80640 | Henderson | Adams | Standard |
| ZIP Code 80642 | Hudson | Weld | Standard |
| ZIP Code 80643 | Keenesburg | Weld | Standard |
| ZIP Code 80644 | Kersey | Weld | Standard |
| ZIP Code 80645 | La Salle | Weld | Standard |
| ZIP Code 80646 | Lucerne | Weld | P.O. Box |
| ZIP Code 80648 | Nunn | Weld | Standard |
| ZIP Code 80649 | Orchard | Morgan | Standard |
| ZIP Code 80650 | Pierce | Weld | Standard |
| ZIP Code 80651 | Platteville | Weld | Standard |
| ZIP Code 80652 | Roggen | Weld | Standard |
| ZIP Code 80653 | Weldona | Morgan | Standard |
| ZIP Code 80654 | Wiggins | Morgan | Standard |
| ZIP Code 80701 | Fort Morgan | Morgan | Standard |
| ZIP Code 80705 | Log Lane Village | Morgan | Standard |
| ZIP Code 80720 | Akron | Washington | Standard |
| ZIP Code 80721 | Amherst | Phillips | Standard |
| ZIP Code 80722 | Atwood | Logan | Standard |
| ZIP Code 80723 | Brush | Morgan | Standard |
| ZIP Code 80726 | Crook | Logan | Standard |
| ZIP Code 80727 | Eckley | Yuma | Standard |
| ZIP Code 80728 | Fleming | Logan | Standard |
| ZIP Code 80729 | Grover | Weld | Standard |
| ZIP Code 80731 | Haxtun | Phillips | Standard |
| ZIP Code 80732 | Hereford | Weld | P.O. Box |
| ZIP Code 80733 | Hillrose | Morgan | Standard |
| ZIP Code 80734 | Holyoke | Phillips | Standard |
| ZIP Code 80735 | Idalia | Yuma | Standard |
| ZIP Code 80736 | Iliff | Logan | Standard |
| ZIP Code 80737 | Julesburg | Sedgwick | Standard |
| ZIP Code 80740 | Lindon | Washington | Standard |
| ZIP Code 80741 | Merino | Logan | Standard |
| ZIP Code 80742 | New Raymer | Weld | Standard |
| ZIP Code 80743 | Otis | Washington | Standard |
| ZIP Code 80744 | Ovid | Sedgwick | Standard |
| ZIP Code 80745 | Padroni | Logan | Standard |
| ZIP Code 80746 | Paoli | Phillips | Standard |
| ZIP Code 80747 | Peetz | Logan | Standard |
| ZIP Code 80749 | Sedgwick | Sedgwick | Standard |
| ZIP Code 80750 | Snyder | Morgan | Standard |
| ZIP Code 80751 | Sterling | Logan | Standard |
| ZIP Code 80754 | Stoneham | Weld | Standard |
| ZIP Code 80755 | Vernon | Yuma | Standard |
| ZIP Code 80757 | Woodrow | Washington | Standard |
| ZIP Code 80758 | Wray | Yuma | Standard |
| ZIP Code 80759 | Yuma | Yuma | Standard |
| ZIP Code 80801 | Anton | Washington | Standard |
| ZIP Code 80802 | Arapahoe | Cheyenne | Standard |
| ZIP Code 80804 | Arriba | Lincoln | Standard |
| ZIP Code 80805 | Bethune | Kit Carson | Standard |
| ZIP Code 80807 | Burlington | Kit Carson | Standard |
| ZIP Code 80808 | Calhan | El Paso | Standard |
| ZIP Code 80809 | Cascade | El Paso | Standard |
| ZIP Code 80810 | Cheyenne Wells | Cheyenne | Standard |
| ZIP Code 80812 | Cope | Washington | Standard |
| ZIP Code 80813 | Cripple Creek | Teller | Standard |
| ZIP Code 80814 | Divide | Teller | Standard |
| ZIP Code 80815 | Flagler | Kit Carson | Standard |
| ZIP Code 80816 | Florissant | Teller | Standard |
| ZIP Code 80817 | Fountain | El Paso | Standard |
| ZIP Code 80818 | Genoa | Lincoln | Standard |
| ZIP Code 80819 | Green Mountain Falls | El Paso | P.O. Box |
| ZIP Code 80820 | Guffey | Park | Standard |
| ZIP Code 80821 | Hugo | Lincoln | Standard |
| ZIP Code 80822 | Joes | Yuma | Standard |
| ZIP Code 80823 | Karval | Lincoln | Standard |
| ZIP Code 80824 | Kirk | Yuma | Standard |
| ZIP Code 80825 | Kit Carson | Cheyenne | Standard |
| ZIP Code 80826 | Limon | Lincoln | Unique |
| ZIP Code 80827 | Lake George | Park | Standard |
| ZIP Code 80828 | Limon | Lincoln | Standard |
| ZIP Code 80829 | Manitou Springs | El Paso | Standard |
| ZIP Code 80830 | Matheson | Elbert | Standard |
| ZIP Code 80831 | Peyton | El Paso | Standard |
| ZIP Code 80832 | Ramah | El Paso | Standard |
| ZIP Code 80833 | Rush | El Paso | Standard |
| ZIP Code 80834 | Seibert | Kit Carson | Standard |
| ZIP Code 80835 | Simla | Elbert | Standard |
| ZIP Code 80836 | Stratton | Kit Carson | Standard |
| ZIP Code 80840 | USAF Academy | El Paso | Standard |
| ZIP Code 80841 | USAF Academy | El Paso | P.O. Box |
| ZIP Code 80860 | Victor | Teller | P.O. Box |
| ZIP Code 80861 | Vona | Kit Carson | Standard |
| ZIP Code 80862 | Wild Horse | Cheyenne | P.O. Box |
| ZIP Code 80863 | Woodland Park | Teller | Standard |
| ZIP Code 80864 | Yoder | El Paso | Standard |
| ZIP Code 80866 | Woodland Park | Teller | P.O. Box |
| ZIP Code 80901 | Colorado Springs | El Paso | P.O. Box |
| ZIP Code 80902 | Colorado Springs | El Paso | Standard |
| ZIP Code 80903 | Colorado Springs | El Paso | Standard |
| ZIP Code 80904 | Colorado Springs | El Paso | Standard |
| ZIP Code 80905 | Colorado Springs | El Paso | Standard |
| ZIP Code 80906 | Colorado Springs | El Paso | Standard |
| ZIP Code 80907 | Colorado Springs | El Paso | Standard |
| ZIP Code 80908 | Colorado Springs | El Paso | Standard |
| ZIP Code 80909 | Colorado Springs | El Paso | Standard |
| ZIP Code 80910 | Colorado Springs | El Paso | Standard |
| ZIP Code 80911 | Colorado Springs | El Paso | Standard |
| ZIP Code 80912 | Colorado Springs | El Paso | Standard |
| ZIP Code 80913 | Colorado Springs | El Paso | Standard |
| ZIP Code 80914 | Colorado Springs | El Paso | P.O. Box |
| ZIP Code 80915 | Colorado Springs | El Paso | Standard |
| ZIP Code 80916 | Colorado Springs | El Paso | Standard |
| ZIP Code 80917 | Colorado Springs | El Paso | Standard |
| ZIP Code 80918 | Colorado Springs | El Paso | Standard |
| ZIP Code 80919 | Colorado Springs | El Paso | Standard |
| ZIP Code 80920 | Colorado Springs | El Paso | Standard |
| ZIP Code 80921 | Colorado Springs | El Paso | Standard |
| ZIP Code 80922 | Colorado Springs | El Paso | Standard |
| ZIP Code 80923 | Colorado Springs | El Paso | Standard |
| ZIP Code 80924 | Colorado Springs | El Paso | Standard |
| ZIP Code 80925 | Colorado Springs | El Paso | Standard |
| ZIP Code 80926 | Colorado Springs | El Paso | Standard |
| ZIP Code 80927 | Colorado Springs | El Paso | Standard |
| ZIP Code 80928 | Colorado Springs | El Paso | Standard |
| ZIP Code 80929 | Colorado Springs | El Paso | Standard |
| ZIP Code 80930 | Colorado Springs | El Paso | Standard |
| ZIP Code 80931 | Colorado Springs | El Paso | P.O. Box |
| ZIP Code 80932 | Colorado Springs | El Paso | P.O. Box |
| ZIP Code 80933 | Colorado Springs | El Paso | P.O. Box |
| ZIP Code 80934 | Colorado Springs | El Paso | P.O. Box |
| ZIP Code 80935 | Colorado Springs | El Paso | P.O. Box |
| ZIP Code 80936 | Colorado Springs | El Paso | P.O. Box |
| ZIP Code 80937 | Colorado Springs | El Paso | P.O. Box |
| ZIP Code 80938 | Colorado Springs | El Paso | Standard |
| ZIP Code 80939 | Colorado Springs | El Paso | Standard |
| ZIP Code 80941 | Colorado Springs | El Paso | Unique |
| ZIP Code 80942 | Colorado Springs | El Paso | Unique |
| ZIP Code 80946 | Colorado Springs | El Paso | Unique |
| ZIP Code 80947 | Colorado Springs | El Paso | Unique |
| ZIP Code 80949 | Colorado Springs | El Paso | P.O. Box |
| ZIP Code 80950 | Colorado Springs | El Paso | Unique |
| ZIP Code 80951 | Colorado Springs | El Paso | Standard |
| ZIP Code 80960 | Colorado Springs | El Paso | P.O. Box |
| ZIP Code 80962 | Colorado Springs | El Paso | P.O. Box |
| ZIP Code 80970 | Colorado Springs | El Paso | P.O. Box |
| ZIP Code 80977 | Colorado Springs | El Paso | Unique |
| ZIP Code 80995 | Colorado Springs | El Paso | Unique |
| ZIP Code 80997 | Colorado Springs | El Paso | Unique |
| ZIP Code 81001 | Pueblo | Pueblo | Standard |
| ZIP Code 81002 | Pueblo | Pueblo | P.O. Box |
| ZIP Code 81003 | Pueblo | Pueblo | Standard |
| ZIP Code 81004 | Pueblo | Pueblo | Standard |
| ZIP Code 81005 | Pueblo | Pueblo | Standard |
| ZIP Code 81006 | Pueblo | Pueblo | Standard |
| ZIP Code 81007 | Pueblo | Pueblo | Standard |
| ZIP Code 81008 | Pueblo | Pueblo | Standard |
| ZIP Code 81009 | Pueblo | Pueblo | Unique |
| ZIP Code 81010 | Pueblo | Pueblo | Unique |
| ZIP Code 81011 | Pueblo | Pueblo | Unique |
| ZIP Code 81012 | Pueblo | Pueblo | Unique |
| ZIP Code 81019 | Colorado City | Pueblo | P.O. Box |
| ZIP Code 81020 | Aguilar | Las Animas | Standard |
| ZIP Code 81021 | Arlington | Kiowa | Standard |
| ZIP Code 81022 | Avondale | Pueblo | Standard |
| ZIP Code 81023 | Beulah | Pueblo | Standard |
| ZIP Code 81024 | Boncarbo | Las Animas | Standard |
| ZIP Code 81025 | Boone | Pueblo | Standard |
| ZIP Code 81027 | Branson | Las Animas | Standard |
| ZIP Code 81029 | Campo | Baca | Standard |
| ZIP Code 81030 | Cheraw | Otero | P.O. Box |
| ZIP Code 81033 | Crowley | Crowley | P.O. Box |
| ZIP Code 81034 | Ordway | Crowley | Unique |
| ZIP Code 81036 | Eads | Kiowa | Standard |
| ZIP Code 81038 | Fort Lyon | Bent | P.O. Box |
| ZIP Code 81039 | Fowler | Otero | Standard |
| ZIP Code 81040 | Gardner | Huerfano | Standard |
| ZIP Code 81041 | Granada | Prowers | Standard |
| ZIP Code 81043 | Hartman | Prowers | P.O. Box |
| ZIP Code 81044 | Hasty | Bent | Standard |
| ZIP Code 81045 | Haswell | Kiowa | Standard |
| ZIP Code 81046 | Hoehne | Las Animas | P.O. Box |
| ZIP Code 81047 | Holly | Prowers | Standard |
| ZIP Code 81049 | Kim | Las Animas | Standard |
| ZIP Code 81050 | La Junta | Otero | Standard |
| ZIP Code 81052 | Lamar | Prowers | Standard |
| ZIP Code 81054 | Las Animas | Bent | Standard |
| ZIP Code 81055 | La Veta | Huerfano | Standard |
| ZIP Code 81057 | Mc Clave | Bent | Standard |
| ZIP Code 81058 | Manzanola | Otero | Standard |
| ZIP Code 81059 | Model | Las Animas | Standard |
| ZIP Code 81062 | Olney Springs | Crowley | Standard |
| ZIP Code 81063 | Ordway | Crowley | Standard |
| ZIP Code 81064 | Pritchett | Baca | Standard |
| ZIP Code 81067 | Rocky Ford | Otero | Standard |
| ZIP Code 81069 | Rye | Pueblo | Standard |
| ZIP Code 81071 | Sheridan Lake | Kiowa | Standard |
| ZIP Code 81073 | Springfield | Baca | Standard |
| ZIP Code 81076 | Sugar City | Crowley | Standard |
| ZIP Code 81077 | Swink | Otero | P.O. Box |
| ZIP Code 81081 | Trinchera | Las Animas | Standard |
| ZIP Code 81082 | Trinidad | Las Animas | Standard |
| ZIP Code 81084 | Two Buttes | Baca | Standard |
| ZIP Code 81087 | Vilas | Baca | P.O. Box |
| ZIP Code 81089 | Walsenburg | Huerfano | Standard |
| ZIP Code 81090 | Walsh | Baca | Standard |
| ZIP Code 81091 | Weston | Las Animas | Standard |
| ZIP Code 81092 | Wiley | Prowers | Standard |
| ZIP Code 81101 | Alamosa | Alamosa | Standard |
| ZIP Code 81102 | Alamosa | Alamosa | Unique |
| ZIP Code 81120 | Antonito | Conejos | Standard |
| ZIP Code 81121 | Arboles | Archuleta | P.O. Box |
| ZIP Code 81122 | Bayfield | La Plata | Standard |
| ZIP Code 81123 | Blanca | Costilla | Standard |
| ZIP Code 81124 | Capulin | Conejos | P.O. Box |
| ZIP Code 81125 | Center | Rio Grande | Standard |
| ZIP Code 81126 | Chama | Costilla | P.O. Box |
| ZIP Code 81128 | Chromo | Archuleta | P.O. Box |
| ZIP Code 81129 | Conejos | Conejos | P.O. Box |
| ZIP Code 81130 | Creede | Mineral | Standard |
| ZIP Code 81131 | Crestone | Saguache | P.O. Box |
| ZIP Code 81132 | Del Norte | Rio Grande | Standard |
| ZIP Code 81133 | Fort Garland | Costilla | Standard |
| ZIP Code 81135 | Homelake | Rio Grande | P.O. Box |
| ZIP Code 81136 | Hooper | Alamosa | Standard |
| ZIP Code 81137 | Ignacio | La Plata | Standard |
| ZIP Code 81138 | Jaroso | Costilla | P.O. Box |
| ZIP Code 81140 | La Jara | Conejos | Standard |
| ZIP Code 81141 | Manassa | Conejos | P.O. Box |
| ZIP Code 81143 | Moffat | Saguache | Standard |
| ZIP Code 81144 | Monte Vista | Rio Grande | Standard |
| ZIP Code 81146 | Mosca | Alamosa | Standard |
| ZIP Code 81147 | Pagosa Springs | Archuleta | Standard |
| ZIP Code 81148 | Romeo | Conejos | P.O. Box |
| ZIP Code 81149 | Saguache | Saguache | Standard |
| ZIP Code 81151 | Sanford | Conejos | Standard |
| ZIP Code 81152 | San Luis | Costilla | Standard |
| ZIP Code 81154 | South Fork | Rio Grande | Standard |
| ZIP Code 81155 | Villa Grove | Saguache | Standard |
| ZIP Code 81157 | Pagosa Springs | Archuleta | P.O. Box |
| ZIP Code 81201 | Salida | Chaffee | Standard |
| ZIP Code 81210 | Almont | Gunnison | Standard |
| ZIP Code 81211 | Buena Vista | Chaffee | Standard |
| ZIP Code 81212 | Canon City | Fremont | Standard |
| ZIP Code 81215 | Canon City | Fremont | P.O. Box |
| ZIP Code 81220 | Cimarron | Montrose | Standard |
| ZIP Code 81221 | Coal Creek | Fremont | P.O. Box |
| ZIP Code 81222 | Coaldale | Fremont | P.O. Box |
| ZIP Code 81223 | Cotopaxi | Fremont | Standard |
| ZIP Code 81224 | Crested Butte | Gunnison | Standard |
| ZIP Code 81225 | Crested Butte | Gunnison | P.O. Box |
| ZIP Code 81226 | Florence | Fremont | Standard |
| ZIP Code 81227 | Monarch | Chaffee | P.O. Box |
| ZIP Code 81228 | Granite | Chaffee | Standard |
| ZIP Code 81230 | Gunnison | Gunnison | Standard |
| ZIP Code 81231 | Gunnison | Gunnison | Unique |
| ZIP Code 81232 | Hillside | Fremont | P.O. Box |
| ZIP Code 81233 | Howard | Fremont | Standard |
| ZIP Code 81235 | Lake City | Hinsdale | Standard |
| ZIP Code 81236 | Nathrop | Chaffee | Standard |
| ZIP Code 81237 | Ohio City | Gunnison | Standard |
| ZIP Code 81239 | Parlin | Gunnison | Standard |
| ZIP Code 81240 | Penrose | Fremont | Standard |
| ZIP Code 81241 | Pitkin | Gunnison | P.O. Box |
| ZIP Code 81242 | Poncha Springs | Chaffee | P.O. Box |
| ZIP Code 81243 | Powderhorn | Gunnison | Standard |
| ZIP Code 81244 | Rockvale | Fremont | P.O. Box |
| ZIP Code 81248 | Sargents | Saguache | P.O. Box |
| ZIP Code 81251 | Twin Lakes | Lake | Standard |
| ZIP Code 81252 | Westcliffe | Custer | Standard |
| ZIP Code 81253 | Wetmore | Custer | Standard |
| ZIP Code 81290 | Florence | Fremont | Unique |
| ZIP Code 81301 | Durango | La Plata | Standard |
| ZIP Code 81302 | Durango | La Plata | P.O. Box |
| ZIP Code 81303 | Durango | La Plata | Standard |
| ZIP Code 81320 | Cahone | Dolores | Standard |
| ZIP Code 81321 | Cortez | Montezuma | Standard |
| ZIP Code 81323 | Dolores | Montezuma | Standard |
| ZIP Code 81324 | Dove Creek | Dolores | Standard |
| ZIP Code 81325 | Egnar | San Miguel | Standard |
| ZIP Code 81326 | Hesperus | La Plata | Standard |
| ZIP Code 81327 | Lewis | Montezuma | Standard |
| ZIP Code 81328 | Mancos | Montezuma | Standard |
| ZIP Code 81329 | Marvel | La Plata | P.O. Box |
| ZIP Code 81330 | Mesa Verde National Park | Montezuma | P.O. Box |
| ZIP Code 81331 | Pleasant View | Montezuma | Standard |
| ZIP Code 81332 | Rico | Dolores | P.O. Box |
| ZIP Code 81334 | Towaoc | Montezuma | P.O. Box |
| ZIP Code 81335 | Yellow Jacket | Montezuma | Standard |
| ZIP Code 81401 | Montrose | Montrose | Standard |
| ZIP Code 81402 | Montrose | Montrose | P.O. Box |
| ZIP Code 81403 | Montrose | Montrose | Standard |
| ZIP Code 81410 | Austin | Delta | Standard |
| ZIP Code 81411 | Bedrock | Montrose | Standard |
| ZIP Code 81413 | Cedaredge | Delta | Standard |
| ZIP Code 81414 | Cory | Delta | P.O. Box |
| ZIP Code 81415 | Crawford | Delta | Standard |
| ZIP Code 81416 | Delta | Delta | Standard |
| ZIP Code 81418 | Eckert | Delta | Standard |
| ZIP Code 81419 | Hotchkiss | Delta | Standard |
| ZIP Code 81420 | Lazear | Delta | P.O. Box |
| ZIP Code 81422 | Naturita | Montrose | Standard |
| ZIP Code 81423 | Norwood | San Miguel | P.O. Box |
| ZIP Code 81424 | Nucla | Montrose | Standard |
| ZIP Code 81425 | Olathe | Montrose | Standard |
| ZIP Code 81426 | Ophir | San Miguel | P.O. Box |
| ZIP Code 81427 | Ouray | Ouray | P.O. Box |
| ZIP Code 81428 | Paonia | Delta | Standard |
| ZIP Code 81429 | Paradox | Montrose | P.O. Box |
| ZIP Code 81430 | Placerville | San Miguel | P.O. Box |
| ZIP Code 81431 | Redvale | Montrose | Standard |
| ZIP Code 81432 | Ridgway | Ouray | Standard |
| ZIP Code 81433 | Silverton | San Juan | P.O. Box |
| ZIP Code 81434 | Somerset | Gunnison | Standard |
| ZIP Code 81435 | Telluride | San Miguel | Standard |
| ZIP Code 81501 | Grand Junction | Mesa | Standard |
| ZIP Code 81502 | Grand Junction | Mesa | P.O. Box |
| ZIP Code 81503 | Grand Junction | Mesa | Standard |
| ZIP Code 81504 | Grand Junction | Mesa | Standard |
| ZIP Code 81505 | Grand Junction | Mesa | Standard |
| ZIP Code 81506 | Grand Junction | Mesa | Standard |
| ZIP Code 81507 | Grand Junction | Mesa | Standard |
| ZIP Code 81520 | Clifton | Mesa | Standard |
| ZIP Code 81521 | Fruita | Mesa | Standard |
| ZIP Code 81522 | Gateway | Mesa | Standard |
| ZIP Code 81523 | Glade Park | Mesa | Standard |
| ZIP Code 81524 | Loma | Mesa | Standard |
| ZIP Code 81525 | Mack | Mesa | Standard |
| ZIP Code 81526 | Palisade | Mesa | Standard |
| ZIP Code 81527 | Whitewater | Mesa | Standard |
| ZIP Code 81601 | Glenwood Springs | Garfield | Standard |
| ZIP Code 81602 | Glenwood Springs | Garfield | P.O. Box |
| ZIP Code 81610 | Dinosaur | Moffat | Standard |
| ZIP Code 81611 | Aspen | Pitkin | Standard |
| ZIP Code 81612 | Aspen | Pitkin | P.O. Box |
| ZIP Code 81615 | Snowmass Village | Pitkin | P.O. Box |
| ZIP Code 81620 | Avon | Eagle | P.O. Box |
| ZIP Code 81621 | Basalt | Eagle | Standard |
| ZIP Code 81623 | Carbondale | Garfield | Standard |
| ZIP Code 81624 | Collbran | Mesa | Standard |
| ZIP Code 81625 | Craig | Moffat | Standard |
| ZIP Code 81626 | Craig | Moffat | P.O. Box |
| ZIP Code 81630 | De Beque | Mesa | Standard |
| ZIP Code 81631 | Eagle | Eagle | P.O. Box |
| ZIP Code 81632 | Edwards | Eagle | Standard |
| ZIP Code 81633 | Dinosaur | Moffat | Standard |
| ZIP Code 81635 | Parachute | Garfield | Standard |
| ZIP Code 81636 | Battlement Mesa | Garfield | P.O. Box |
| ZIP Code 81637 | Gypsum | Eagle | Standard |
| ZIP Code 81638 | Hamilton | Moffat | Standard |
| ZIP Code 81639 | Hayden | Routt | Standard |
| ZIP Code 81640 | Maybell | Moffat | Standard |
| ZIP Code 81641 | Meeker | Rio Blanco | Standard |
| ZIP Code 81642 | Meredith | Pitkin | Standard |
| ZIP Code 81643 | Mesa | Mesa | P.O. Box |
| ZIP Code 81645 | Minturn | Eagle | P.O. Box |
| ZIP Code 81646 | Molina | Mesa | P.O. Box |
| ZIP Code 81647 | New Castle | Garfield | Standard |
| ZIP Code 81648 | Rangely | Rio Blanco | Standard |
| ZIP Code 81649 | Red Cliff | Eagle | P.O. Box |
| ZIP Code 81650 | Rifle | Garfield | Standard |
| ZIP Code 81652 | Silt | Garfield | Standard |
| ZIP Code 81653 | Slater | Moffat | Standard |
| ZIP Code 81654 | Snowmass | Pitkin | Standard |
| ZIP Code 81655 | Wolcott | Eagle | P.O. Box |
| ZIP Code 81656 | Woody Creek | Pitkin | P.O. Box |
| ZIP Code 81657 | Vail | Eagle | Standard |
| ZIP Code 81658 | Vail | Eagle | P.O. Box |
The Colorado state zip & county map  file in vector format enable the user organise level of structuring of map.
A vector file (ai, pdf) has flexible tools for displaying elements of maps
- you can discrete or arbitrary scaling map
- performing group operation with selected features
- changing the orders of displaying layers
- switching in/off displaying os any layers
- changing attributes of selected object ( recolour, modify outline thick, transparency, symbols)
- adding or changing features of any items, (i.e. font type)
- copying and moving particular shapes
- merging different shapes (i.e. counties)
- adding, removing cartography symbols

For editing ai, pdf file use the most common Adobe Illustrator (version 10 or higher) or CorelDRAW (version 10 or higher). If you don't have Adobe Illustrator or Corel you can choose
free open source Inkscape - 57 MB -(Windows, Mac, Linux platform ) or Scribus (Windows, Mac, Linux (54 MB)